Fathers day gifts for the Dad who loves to golf! It's hard to find the perfect gift for your Dad or Husband for this special day and we're here to help. We have collected some of our favorite gifts for him – with a golf twist. I know that my Dad doesn't really need anything but always loves a unique Fathers Day gift.
If your Dad loves golf, then we have the perfect gift for him! Check out our list of amazing fathers day golf gifts. He will love any of these unique gifts – perfect for showing your appreciation.
---
Tiger Woods Autographed Gifts
What better way to celebrate Dad than with an authentic Tiger Woods Autographed Polo. This would be a great gift for the super Tiger Woods fan. An autograph from Tiger himself – your hubby will be excited to get this one framed and hung in the man cave.
Yes, the autographed version is pretty pricey so you may want to save that for a very very special Fathers Day. A red Nike polo is Tiger's signature style – gift dad one of these for Fathers Day this year.
Another gift to fill out the man cave could be a Tiger Woods autographed Masters photograph. How cool would this be to hang on the wall??
---
Golf Simulator
What exactly is a golf simulator anyway? It's a type of virtual reality technology where you can play 18 holes with a variety of courses to choose from and also practice putting on the green or driving off the tee.
This is an awesome idea for any golfer who wants to get better at his favorite sport during the off season. Even in the south, there are certain times of the year that golf courses close. A golf simulator like this one will let your dad play at any time!
---
Golf Cart Heater
A golf cart heater is a great gift for the Dad who loves to golf in cold weather. It will keep him warm on those chilly days out on the course.
This heater is durable and easy to use, and it will help him stay comfortable while he plays. Some courses will stay open even when it's into the 40's – brrrr.
---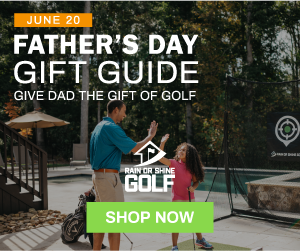 Golf GPS Watch
A golf GPS watch is a great gift for the Dad who loves to golf. This watch will help him track his progress and improve his game. It's easy to use and very accurate, and it will be a valuable tool for him on the golf course.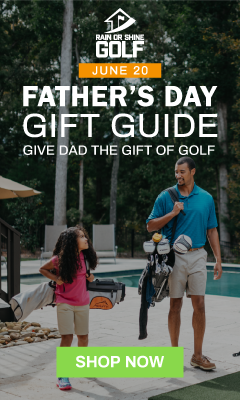 ---
A Rangefinder
A rangefinder is a great gift for the Dad who loves to golf. It will help him find his way around the course and make sure he knows how far away he is from the pin on every stroke.
---
Golf Clubs
A new set of golf clubs is always a hit with Dad. They are always coming out with new technology for golf clubs and it may be time for an upgrade.
---
Golf Ball Markers
These little markers are perfect for marking your spot on the green – or for impressing your friends.
---
Golf Towel
Make sure your dad has the perfect golf towel to keep his clubs clean while out on the course!
---
Personalized Golf Gifts
A ball marker "Best Daddy By Par" with your name on it. Your dad will always remember this unique gift from you. Every time he's out golfing he'll be able to think of his daughter or son.
---
Etsy has tons of other personalized gift ideas for Fathers Day – golf related or not.
---
Best Dad By Par T Shirt
---
A new driver
A driver is one of the most essential clubs to the game of golf. If your dad has had the same one for a while, it's probably time to upgrade to a new driver like the TaylorMade SiM 2 Max. You might want to have him test it out first though – and don't forget to consider your options when buying new golf clubs.
---
---
Don't forget to get him some new golf balls to go along with that new Driver. Still going strong, the Titlesist ProV1 balls are a top choice.
---
Sports Team Head Covers
Every golfer could always use some fun head covers. If your dad or husband is a sports fan, treat them to a set of head covers with the favorite sports team logo. Like these Michigan Wolverines set of 3 head covers.
There're more than just head covers with his favorite team on it! The TEAM GOLF store has other options for golf gifts with your sports team logo. Some options include ball marker and divot tools, NFL team golf balls, NFL team golf bags, and so many more items.
---
Gift card to play golf
You can't go wrong with gifting a round of golf. A GoPlay Golf gift card allows him to use this credit towards playing at over 5000 courses around the country. Your husband will probably be thrilled that you're giving him the choice of where to go play – and the time away!
---
Thanks for scrolling through our favorite Fathers Day Golf Gifts! As always, leave us a comment below with any questions.