Finding the best golf gifts for men can sometimes be a challenge! If you have a golfer in your life – whether it's your boyfriend, husband, dad, brother, or a friend – it can be hard to find them something useful for that special occasion. That's why we are putting together a comprehensive list of some amazing gift ideas for the golfer in your life.
As golfers, we are always looking for the next best club to come out or that new golf gadget to play with. There are also so many other fun golf gifts for men like funny golf shirts, unique golf practice equipment, or a personalized ball marker from a loved one.
Our Tops Picks – Boyfriend Golf Gifts
We're sharing some of the best finds for the golfer that already has everything. These golf gifts are perfect for any occasion – Christmas, Birthdays, Anniversaries, Fathers Day, or just an "I Love You" gesture.
---
Golf Equipment Organization Gift Ideas
We all know that with the abundance of different golf accessories and golf equipment, things can get a little cluttered! Help your golfer get organized with some accessories to keep things in their place at your home.
This gift is perfect for the golfer that just can't seem to keep their equipment organized in their car. You can use these organizer compartments in your trunk to stop everything from moving around while driving.
Complete Golf Organizer Rack
This golf organizer rack can be used in your garage or any storage area. It's perfect if you have more than one set of clubs. The middle area has several shelves for storing golf balls, golf tees, your golf shoes, and golf hats!
Does your guy have an overload of golf hats and no where to store them? This over the door hat organizer is the perfect solution and a great gift.
---
Golf Practice Gift Ideas
Gift ideas for the guy that loves to practice his golf game all the time. At home practice gifts and practice gifts for the driving range. Here are a few of our favorite gift ideas.
If your golf guy hasn't used these in the past, learning how to use golf alignment sticks is super easy and a perfect gift to help them practice.
Golf Swing Training Kit
A full golf swing training kit is sure to WOW as a golf gift for him. It can used at home in your backyard or garage and will help with balance, your swing speed, and help condition your body to improve your golf game.
Related: Best Golf Training Aids
Golf Practice Net – Golf Gifts For Men
Another great gift idea for the golfer that wants to practice at home. This golf practice net can be setup inside or outside. Practice chipping or your full swing!
We've got a complete list of more golf practice nets for home practice too!
Indoor Putting Practice Green
This indoor putting green is pretty awesome. It's great for indoors or outdoors and will fold up if you have a small space. Any guy would love to have this putting green practice mat for their next birthday or holiday gift.
---
A FREE Golf Gift Idea
Yes, FREE – well… almost! Print out a funny golf quote or inspirational golf saying. Put it in a picture frame and you've got yourself a custom little gift!
You could use something like this Arnold Palmer quote – "I have a tip that can take 5 strokes off anyone's game. It's called an eraser."
---
Golf Gadget Gift Ideas
A Way To Record Your Swing
A cheap and easy way to record your swing now exists with the SelfieGOLF Record Golf Swing. With this golf gadget, you don't have to go to the range with your man to record his swing, he can do it all on his own.
---
---
Men's Golf Apparel Gift Ideas
Eat Sleep Golf T-Shirt
As a golfer, you may already have enough golf polos to line your entire closet. However, golf apparel that is something a little different is a perfect gift – like this Eat Sleep Golf T-Shirt. Your boyfriend will love wearing this out to watch the football game or for an evening lounging around the house.
Another Fun Golf T-Shirt
Life is full of important choices – which club to choose??
Funny or Serious Socks
Any guy can use some new socks – why not these fun golf socks?
---
Personalized Golf Gift Ideas
Custom Golf Course Map
Does your hubby have a favorite golf course? Get a custom golf course map print from an artist on Etsy. Put it in a frame and this will be the perfect additional to any office or bedroom for the golf lover.
Make it a collections and get a few of these for a personal golf gift.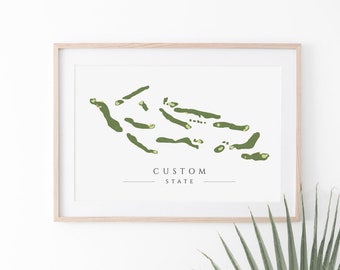 Pinehurst No. 2 Pinehurst 2 North Carolina Golf Course
An Engraved Ball Marker
Send a sweet message to your spose every time they go out on the course. This engraved ball marker is adorable and it the perfect thoughtful gift for him.
---
Gifts To Use On The Golf Course
For a fun day on the golf course, some tunes are a must! Some golf courses have started to give you a speaker to use for your round. Get one of your own that actually mounts to the golf cart and you'll be able to hear it from in the cart or while you're on the tee.
The Amp Caddy attaches to the golf cart and has amazing sound quality.
An Insulated Golf Mug
You'll need to keep hydrated while you're out on the golf course for a few hours. This fun "Worlds Okayest Golfer" mug is a great gift for him to take his favorite drink the next time he's golfing.
This insulated cup can be used for cold or hot beverages and keep them at temperature the entire day.
Unique Ball Marker and Divot Tool
Every golfer has ball markers and a divot tool that they carry with them. But having a unique divot tool set would be something that your hubby or dad will love! Get a set with their favorite sports team.
Golf GPS Tracker
The Garmin Golf GPS tool fits on any belt buckle or your golf bag. Get your distance from the pin without a range finder. This Golf GPS is a perfect gift – it's compact, light weight, nd any golfer would love to have it.
Golf Towel With Sports Team Logo
A thoughtful gift for him to get a golf towel with sports team logo. Instead of a plain and boring towel, this golf towel is something he'll want to show off.
---
Funny Golf Gift Ideas
Not everything has to be serious when it comes to golf! Get your boyfriend or husband a fun golf gift and give him a good laugh. These fun golf gifts are practical and he'll love them!
Funny Wood Golf Sign
An engraved wood sign with a funny golf slogan! A light hearted gift for your golfer – he will definitely LOL at this sign. "I Love It When My Wife Lets Me Play Golf"
An Embroidered Towel That Says "I'd Tap That"
I'm not sure if this is something you'd want in your kitchen but your husband, boyfriend, or father can use this "I'd Tap That" towel on the golf course!
We hope you enjoyed our favorite golf gift ideas for men! We'll be updating these regularly so don't forget to check back for the next holiday, birthday, or special occasion.
We're Tommy & Melissa! A golf loving couple here to provide a resource for golfers of any level.

Tommy has been playing golf since he was 5 and is now a PGA golf professional.

Melissa started golfing as a hobby and has slowly worked to improve her golf game.

Golf With Luck was created to share tools and tips to help you lower your golf score!